Vietnam Airlines receives its 100th aircraft
2019-10-24 10:57:11 Release
Vietnam Airlines receives its 100th aircraft
(SGGP) The national flag carrier Vietnam Airlines (VNA) held a ceremony to receive its 100th aircraft at Noi Bai International Airport on October 22.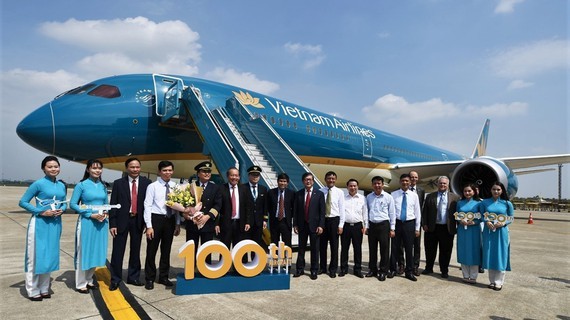 It is the third of eight Boeing 787-10s which have been delivered between August 2019 and March 2021.

Speaking at the event, Deputy PM Truong Hoa Binh highly appreciated the carrier's effective efforts in innovating and expanding its fleet, making it to become one of the airlines in the region and the world in exploiting modern jets and taking an approach to advanced aviation technology.
He stressed that the national flag carrier will continue to increase the number of planes and offer a wide range of flights to more destinations across the world, In addition, the company should focus on improving the service quality, infrastructure, the study of science and technology and flight-crew monitoring skills for stable development.
As planned, VNA is expected to receive 17-20 million international passengers and 80 million domestic travelers by 2020.
The airlines currently owns a fleet of Airbus A350 and Boeing 787 wide-body planes. Boeing 787-9 Dreamliner and Airbus A350-900 are among the world's most modern and advanced wide-body aircrafts. This move is aimed to promote its brand name to be the first carrier in Asia to own the wide-body aircraft types.